OVERVIEW

ON INFOTRAK BANKING INDUSTRY CSS

In today's fast paced world, gauging stakeholder perception is not only necessary for ensuring satisfaction and commitment, it is also imperative for tracking and identifying key success factors.

The dynamism and competitive nature of the environment dictates that stakeholders, unless kept happy, will move elsewhere.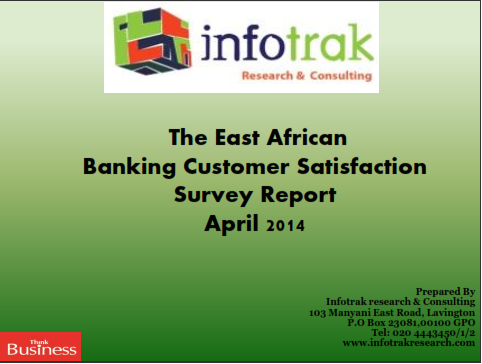 With the report, you will get the following...
1. Key performance indicators broken down by specific customer interface areas. For instance in first point of interaction we look at :
Cleanliness & comfort of banking hall, Ambiance( lighting, fresh air etc), Waiting area, Corporate branding,Friendly and accommodating guards, cleanliness of the ATM , Security of the ATM. As such the report is extremely robust and exhaustive
For each KPI, banks in the same tier are ranked based on customer satisfaction. c.The KPIs have been weighted for importance as such, customer loyalty defined as likelihood to recommend is given the highest weighting.
2. You will get indices for all other banks in the same tier. This allows for proper comparative analysis with peer banks
3. The net promoter score has also been included in the report .
4. The amount allows for two presentations: one to senior executive team and another to team decided upon by the internal customer
.
You can get a detailed introduction here... overview...